Fabrice Peyrolles
Designer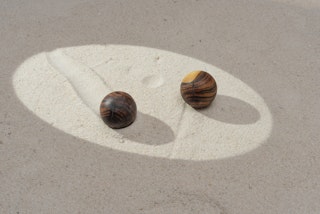 Cochonnet Bouchoun
Cochonnet Bouchoun
Bouchoun is proposed as an application of the Project Si(s)tèmo which treats the uses of invasive plants form National Parc of Calanques de Marseille. In Provençal, bouchon means small ball, it is the goal of the game of pétanque; the jack ball.
Bouchon is made of woody alfalfa, a shrub originally growing on eastern Mediterranean islands which is an invasive specy of the National Parc of Calanques. This shrub produces a very hard and dark wood with a very beautiful veining. The density of alfalfa wood is equivalent to ebony.
The jack ball is an interesting use of the alfalfa wood for several reasons. First, wood turning is a prime use for this type of wood ; dense and very fine-grained. Then, the diameter of the jack corresponds to the section of available wood produced by the invasive shrub. And finally, the wood jack ball is traditionally made of boxwood whose de production chain is currently threatened by an invasive insect species that decimates crops in France.
Bouchoun therefore considers an invasive species as a solution to the problems set by another invasive specie.
---
---
Bouchoun est proposé dans le cadre du projet Si(s)tèmo, qui s'intéresse à l'utilisation de plantes invasives du Parc National des Calanques. En provençal, bouchoun signifie petite boule, c'est le but du jeu de pétanque ; le cochonnet.

Bouchoun est réalisé en luzerne arborescente, un arbuste originaire des îles de Méditerranée orientale qui est une plante invasive du Parc National des Calanques. Cet arbuste produit un bois très dur et sombre avec un très beau veinage. La densité du bois de luzerne est équivalente à celle de l'ébène.
Le cochonnet est une utilisation intéressante du bois de luzerne arborescente pour plusieurs raisons. Premièrement, le tournage est une utilisation de choix pour ces typologies de bois ; dense et au grain très fin. Ensuite, le diamètre du cochonnet correspond aux sections de bois disponible produit par l'arbuste invasif. Enfin, il faut savoir que le cochonnet du jeu de pétanque est traditionnellement fabriqué en buis, dont la filière de production est actuellement menacée par une espèce d'insecte invasive qui décime les cultures : La pyrale du buis.
Bouchoun envisage donc une espèce invasive comme solution aux problèmes posés par une autre espèce invasive.
---
On this page|Sur cette page Photos : Véronique Huyghe, Fabrice Peyrolles