Fabrice Peyrolles
Designer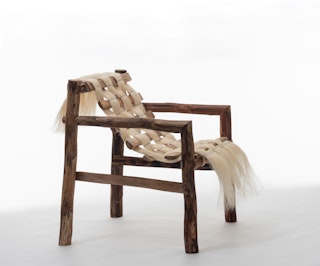 Fauteuil Maguey
Fauteuil Maguey
---
Maguey armchair is presented as a part of the Project Si(s)tèmo which treat about the uses of invasive plants form National Parc of Calanques de Marseille. Maguey armchair is made of different parts of Agave americana. It is the symbol of the approach proposed by the Si(s)tèmo project. It is not intended to be industrialized.
The structure is made of agave wood. This wood has a pol form and can reach 8 meters high and which appears when the plant dies. It support the flower which will spread the seeds. The wood is quite light, regular and it grows after 8, 10 or 12 years… There is no visibility on the supply of this material. Using this material is a nonsense from the point of view of productivity. And it is this research of productivity and performance in the extraction of natural resources that leads to the drifts pointed out by the Project Si(s)tèmo.
The seat of the armchair is made of agave fiber. The extraction and the use of these fibers are a part of the Otomi tradition, indigenous people from Central America. Even today, womens' cooperatives make a living from the work of this material. The Si(s)tèmo Project reflexion enhance ancient traditional cultures. They constitute a wealth both in their know-how in the transformation of materials and in the relationships that individuals establish with their environment.
Maguey is the Native American word for the plants of the agave family.
---
Le Fauteuil Maguey est proposé dans le cadre du projet Si(s)tèmo, qui s'intéresse à l'utilisation de plantes invasives du Parc National des Calanques. Le fauteuil Maguey est fait avec différentes parties de l'Agave. Ce fauteuil est un symbole de l'approche proposée par le Projet Si(s)tèmo, il n'a pas vocation à être industrialisé.

La structure est en bois d'agave. Ce bois prend la forme d'un mât qui peut atteindre 8 mètres de haut et qui apparaît quand la plante meurt. Il supporte la fleur qui répandra les graines. C'est un bois très léger, régulier et il pousse au bout de 8 ans, 10 ans ou 12... Il n'y a pas de visibilité sur l'approvisionnement de cette matière. Utiliser cette matière est un non-sens du point de vue de la productivité. Et c'est cette recherche de productivité et de performance dans la production des ressources naturelles qui amènent les dérives pointées du doigt par le Projet Si(s)tèmo.

L'assise du fauteuil est en fibre d'Agave. L'extraction et l'utilisation de ces fibres font partie de la tradition Otomi, peuple indigène d'Amérique centrale. Aujourd'hui encore, des coopératives de femmes vivent du travail de cette matière. Dans sa réflexion le Projet Si(s)tèmo, valorise les cultures traditionnelles anciennes. Elles constituent une richesse tant dans leur savoir faire de la transformation des matières que dans les relations qu'établissent les individus avec leur environnement.
Maguey est le mot natif américain qui désigne les plantes de la famille des agaves.
---
On this page | Sur cette page Photos : Véronique Huyghe