Fabrice Peyrolles
Designer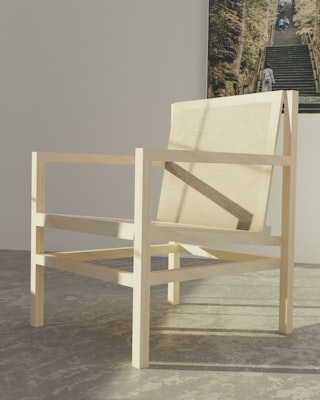 Flexwood Armchair
Flexwood Armchair
---
The Flexwood armchair is a proposal of use for the lasercut flexwood finishing process.
The work on the flexwood starts when I got interested in the lasercut process. Quickly my experiments lead me on patterns which, once applied on the wood, make it flexible. This cutting technique is known as an artisanal method to bend the wood, but the use of extremely precise numerical machines allow to take a step forward in the cutting and the properties given to the material.
The exploration focuses on drawing complex patterns and experiment the properties given to the wood. Thereby treated, the wood can be used for several qualities: its flexibility, its aesthetic or its openwork aspect.
The armchair is fully realized in wood. The laser cut provides to the sit and the back a flexibility which make the chair as comfortable as it would be if it were padded.
---
Experiment and variation in the patterns and the scales
Expériementation et variations dans les motifs et leurs échelles
Detail of the openwork pattern and light show
Détail du motif à clairevoie et jeu de lumière
---
Le fauteuil en bois flexible est une proposition d'utilisation pour le procédé d'ennoblissement flexwood découpe laser.
Le bois flexible est un travail qui débute lorsque je m'intéresse à la découpe laser comme outil d'usinage. Rapidement, mes expérimentations m'emmènent sur des motifs qui, une fois appliqués au bois, rendent la matière flexible. C'est une technique artisanale connue pour cintrer le bois, mais l'usage de machines numériques très précises permettent de franchir un cap dans la découpe et les propriétés de la matière.
Le travail se concentre donc sur le dessin de motifs complexes et sur l'expérimentation des propriétés qu'ils amènent au matériau.
Véritable procédé d'ennoblissement, ce mode de travail du bois permet de changer le regard porté sur ce matériau. Le bois traité selon ce procédé peut être utilisé pour différentes qualités : sa souplesse, son esthétique ou sa nature ajourée.
---