Fabrice Peyrolles
Designer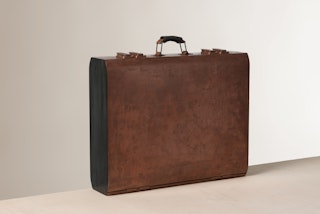 La Mallette | H·Theoria
La Mallette | H·Theoria
The Briefcase is realized to order by the spirit brand HTheoria. It is the result of a research on the transport, the presentation and the tasting ritual of the liquors of this young brand.
Decided to get into the creation of its liquors with a perfumery approach, the brand was searching a way to present the result of its daring work.
The creation of the briefcase ensues from an approach between design and artcraft. Its vertical stand makes it a real jewerly case for the bottles. The briefcase opening sets up a display which will be the field for the tasting.
Self-edited, the briefcase has a tinted poplar structure whose the lightness is particularly suited to nomadic use. The cladding material is made of copper metallization which bring both strenght and a typical aesthetic. The inside is coated with a dark-green velvet and the tinted poplar structure is adorned with lasercut marquetry.
---
La Mallette est réalisée sur commande de la marque de spiritueux H.Théoria. C'est le résultat d'un travail sur le transport, la présentation et le rituel de dégustation des liqueurs de cette jeune marque.
Décidée à aborder la création de ses liqueurs avec une approche de parfumerie, la marque cherchait un moyen de présenter le fruit de son travail audacieux.
La création de la Mallette est issue d'une approche entre design et artisanat. Sa tenue verticale en fait véritable écrin pour les bouteilles. Son ouverture dresse un présentoir qui sera le terrain de la dégustation.
Auto-éditée, la mallette a une structure en peuplier teinté dont la légèreté est particulièrement adaptée à l'usage nomade. Le revêtement extérieur est une métallisation de cuivre qui apporte à la fois une résistance et une esthétique singulière. L'intérieur est recouvert d'un velours vert-sombre et la structure en peuplier teinté est ornée de marqueterie laser à l'effigie de la marque.

---
Sur cette page Photos : Véronique Huyghe