Fabrice Peyrolles
Designer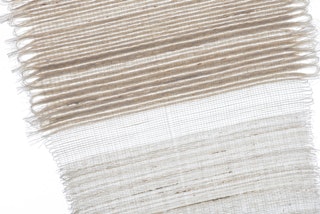 Ixtle Textile
Ixtle Textile
---
Ixtle textile is a part of the experiments of the Si(s)tèmo project, which treat about the uses of invasive plants from National Parc of Calanques de Marseille. The ixtle (or isle) is a plant fiber used in Central America. It is obtained by various processes operated on the leaves of agave.

On these textile experiments, the extraction of fibers is carried out according to the traditional methods still operated today in the Otomi craft cooperatives. Then, the fiber are woven in the Ensci textile workshop by Aurélie Benoit, who accompanied me for this part of the exploration. Through the different armors; canvas, twill or satin, the experiments allow us to imagine the possibilities of using agaves from Calanques for textile use.
---
Ixtle textile fait partie des expérimentations du projet Si(s)tèmo, qui s'intéresse à l'utilisation de plantes invasives du Parc National des Calanques. L'ixtle (ou istle) est une fibre végétale utilisée en Amérique centrale. Elle est obtenue par différents procédé opérés sur les feuilles d'Agave.

Sur ces expérimentations textiles, l'extraction des fibres est réalisée selon la méthode encore opérée aujourd'hui par les coopératives d'artisanat otomi. Ensuite, les fibres sont tissées dans l'atelier textile de l'Ensci par Aurélie Benoit, qui m'a accompagné pour cette partie de l'exploration. Au travers des différentes armures ; toile, sergé ou satin, les expérimentations permettent d'imaginer les possibilités de l'utilisation des agaves des calanques pour un usage textile.
---
On this page | Sur cette page Travail de tissage : Aurélie Benoit Photos : Véronique Huyghe